Oasis Skin Organic Turmeric Scalp Cleanse and Dandruff Control Solid Shampoo
This shampoo bar is handcrafted with Organic Mango Butter and Coconut Oils, with a high concentration of Organic Turmeric, Sidr Leaves and Moroccan Lava Clay to stimulate blood circulation and gently detoxify your scalp daily. It is balanced with Organic Essential Oils of Rosemary, Tea Tree and Peppermint, leaving your scalp deeply cleansed with a minty zing! This shampoo is best suited for those with dyed hair looking to enhance its colour durability. pH tested at 6.5 - 7.
Benefits
Prolong hair dye colour durability
Strengthen and purify hair follicles
Absorb toxins from the scalp and soothe itchiness
Stimulate hair growth
Control dandruff
How to use:
Rub the shampoo 4-5 times directly onto your wet hair, or lather it between your hands and apply onto the scalp. Gently massage it into your scalp and work it into a nice lather. Rinse out as per normal. Let the bar air dry between uses to prolong its use.
These solid shampoos are more concentrated than traditional shampoos, thus a little goes a long way. Extend its durability by keeping it as dry as possible between washes.
Key Ingredients:
Organic Turmeric - This antioxidant-rich spice possesses antiseptic and anti-inflammatory qualities that helps to purify the scalp and get rid of dandruff.
Sidr Leaves - Antibacterial and purifying, these herbal leaves are excellent for cleansing out impurities and also helps to retain pigments of the hair. This is especially beneficial for those with dyed hair and want to prolong its colour durability
Rhassoul Clay - A mineral-rich lava clay that absorbs toxins from the scalp. It contains Silica (52%) which is known to stimulate hair growth, and Magnesium (25%) which strengthens hair follicles and hair.
Organic Rosemary Oil - This invigorating herb stimulates blood circulation in the scalp, improving the delivery of necessary nutrients to every hair follicle, thereby promoting hair growth
Organic Tea Tree Oil - Potent ingredient to fight against bacteria, fungi and viruses.
Ingredients:
Sodium Cocoyl Isethionate (derived from Coconut), Sodium Lauryl Sulfoacetate (derived from Coconut), Organic Mango Butter, Purified Water, Organic Cocos Nucifera (Coconut) Oil, Behentrimonium Methosulfate (derived from Canola) (and) Cetearyl Alcohol, Organic Turmeric Longa Root Extract, Zizyphus Jujuba (Sidr Leaves), Moroccan Lava Clay, Organic Rosmarinus Officinalis (Rosemary Leaf) Oil, Organic Melaleuca Alternafolia (Tea Tree) Leaf Oil, Organic Mentha viridis (Spearmint) Leaf Oil
Volume:

Travel size - Good for 15 to 30 washes
Regular size - Good for 30 to 60 washes
Product of Singapore
---
---
Customer Reviews
01/07/2021
Siti H.
Singapore
My dad's favourite shampoo
I introduced this to my dad since last year and he's been using it ever since. He said it works for his sensitive scalp. It is no longer itchy and he finds it refreshing.
11/13/2020
Serene L.
Singapore
Second purchase!
This is my second purchase because it's really good! It cleanses my scalp and does not cause itch. Thankful for the helpful recommendations at the store too!
11/06/2020
Phonea B.
Singapore
Oasis skin organic tumeric scalp cleanse
My scalp is tends to be & sensitive & oily some expensive shampoo really irritate it, Alhamdullilah with this unique shampoo really great & does not irritate at all.. really difficult to find shampoo that really cleaning and this shampoo really perfect for me... To all of you pls give it a try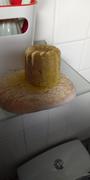 10/18/2020
Serene
Singapore
OASIS SKIN ORGANIC TURMERIC SCALP CLEANSE AND DANDRUFF CONTROL SOLID SHAMPOO
This is a really good shampoo and it helps to reduce itchiness and control dandruff. Recommended!
05/31/2020
nuraisyah m.
Singapore
Great product!
Shape holds up well. Good to use and not drying. Helped clear up my scalp. Mild smell.
04/29/2020
Atiqah
Singapore
Great product
Love the fact that for a small size, it can last very long. And it lathers very well, like liquid shampoo. It helps to combat my hair loss and itchy scalp. My hair fall is way way lesser after a few washes, even when I comb it! Pair it with the solid conditioner if u have frizzy/dry hair to smooth down the hair. Amazingly, it smells nice, doesn't have that turmeric smell. And importantly, it contains only clean ingredients. This is absolutely fuss free and definitely earth friendly. Especially great for traveling too!