Customer Reviews
SATISFIED
this is my like 2nd or 3rd time? buying nail polish in the store. i'm not usually a nail polish person cas i was scared to use them, i scared people sat smt cas they wasn't halal, so i went online to find halal ones and they so damn ex! somehow i managed to find this store! i'm super satisfied wit everything let it be the quality the price! as of the price, i'm super satisfied! not oni the nail polish but other items as well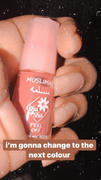 Nail Polish
Nail polish was really great and very convenient. Love that i dont have to remove it with a nail polish remover! Makes life much easier! Will definitely come back and purchase more
10/15/2019
Nurul J.
Singapore
05/03/2019
NS
Nurul S.
NAIL POLISH (PEEL OFF)
I love the colours, easy to apply and also peel off. I've been looking for a nail polish something like this and i found a place that i can get without travelling to JB for it. Thank you Min List!
Kids love it
Nail polish had a variety of really nice colours, i chose black (I've always wanted black nail polish ;)), turquoise and pink. Partly because they're my favourite colours and also to surprise my kids with! They were so happy to see my surprise and so was I! They are always asking me to put on their nail colour of the day, several times a day actually. :) Nice shades, easy to peel off (especially if its a thick layer) and dries fast. Satisfying purchase!